Notice on the readjustments of health measures for travelers wishing to travel to China from France
(Updated December 27, 2022 – From Chinese embassy)
In accordance with the latest requirements of the Chinese government, from January 8, 2023 (Beijing time), the Chinese Embassy and consulates in France are readjusting the health measures for travellers wishing to travel to China from or via France as follows:
I. Travellers of any nationality wishing to travel to China by plane from or via France, must take a PCR test within 48 hours prior to boarding. All legitimate sanitary facilities are acceptable.
For example, if the departure is scheduled for the evening of January 18, the collection can be done after midnight on January 16.
Travelers testing positive are required to rearrange their trip.
After obtaining the negative result, travelers no longer need to request the health QR code at the Chinese Embassy or consulates in France. But they need to complete the customs declaration form via WeChat app by scanning the QR code below or via its website (https://htdecl.chinaport.gov.cn/htdeclweb/home/pages/healthDeclare/declare .html) before boarding.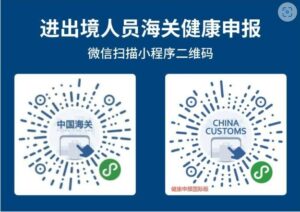 III. Upon entering Chinese territory, travellers will no longer be required to perform the PCR test and placed in quarantine if their custom declaration and temperature are normal.
The Chinese side will further improve Chinese visa policies for return to work or economic activity, trade, study, family visit and reunification.
In order to ensure the health safety of international travel, travellers are requested to scrupulously respect health protocols  before and during their trip.